A brand new version 2.0 of Easy Photo Recovery is out now.
This is not just another run-of-the-mill upgrade. The program's engine has been rewritten, resulting in greater scanning speed. The user interface has changed slightly while staying as simple and straightforward as before. The most notable innovation, apart from an improved file recovery mechanism, is the program's ability to create and process disk images. Now you can save a storage medium's data in a disk image for deferred analysis and recovery, which in the case of a memory card, for example, means it will be free for reuse.

One other new option is "Try to Open" which allows the user to attempt opening any of the files detected during a scan to look at the contents. This eliminates the need to first restore a file to a temporary folder in order to open it in Windows Explorer -- all the user has to do is double-click the file in question. As for the temporary folders, the program will remind the user to empty those before exiting if he so wishes.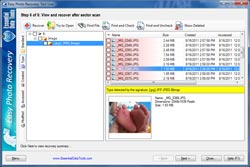 Please note that this version 2.0 is currently only available in English -- this is a unique opportunity for linguistically savvy users to land an Easy Photo Recovery license for free! Just translate the appropriate parts of the english.lng file into your language and email us the result. You heard it right, free licenses to freelance translators!